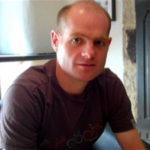 Gideon Burrows is an award winning fiction and non-fiction writer.
He is author of the Who's In Control? series of novels, which aim to challenge the reader into considering what they would do in a terrifying or challenging situation. They include The Spiral, The Illustrator's Daughter, Portico, and Future Shop. He's currently working on the fifth book in the series.
Gideon was semi-finalist in the Kindle Book Awards for his social media thriller Portico, and winner of the Writing Magazine Self Published Book Award for his first non-fiction book, Men Can Do it: Why Men Don't Do Childcare.
You can join his mailing list and download the free book, Martin & Me, a difficult tale of a personal relationships, spying and the arms trade.
Age 13, Gideon thought he was going either going to be a writer or a ninja. His parents bought him a typewriter rather than a set of nunchucks, so that was that decided.
He trained as a journalist and spent 10 years writing for major UK newspapers and magazines.
Gideon is a qualified bicycle mechanic, a keen road cyclist and a fan of professional cycling. His fastest time for a 10 mile time trial is 25 minutes, dead on; and the climb of Sa Colobra in Majorca a not too bad 38 minutes, 28 seconds.
Not that he's counting.
Under a pen name, Gideon is writing a series of ninja themed action novels. His knowledge of the ancient ninja path may yet prevail…