Ninja of Light : A Hako Ninja Novel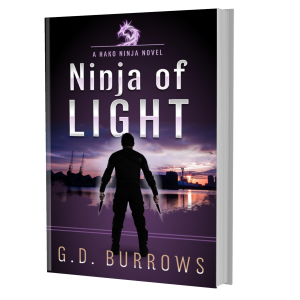 He trained under the freezing Yamabushi waterfalls of Japan. Now he's back to bring London's criminal gangs to justice.
Forty desperate people are about to find a new and brighter future when they are captured and forced at gunpoint into a shipping container.
Their destination? Modern slavery.
Hakosan is a warrior in a secret elite squad of ninjas, using the 14th century Japanese martial art with modern high tech gadgets to take on the criminals.
He is directed by the mysterious ninja master Hatsumi to track down the gangsters, and to save the prisoner's lives.
But with police on his tail, a fellow ninja murdered and another dangerously unhinged, this could turn out to be the most challenging mission of his career.
Ninja of Light is a roller coaster ride of skilled ninja action, special weapons, incredible athletic ability, disguise and super intelligent tactics.
Are you ready to enter the way of the ninja?
Book 1 in the Hako Ninja Series
---