Portico: A Social Media Thriller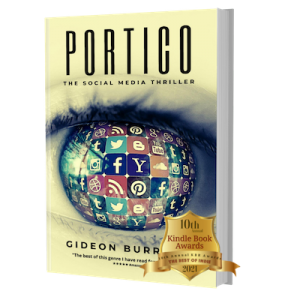 Please buy ebook directly from the author for just £3.99p now!
Buy your signed Portico paperback direct from the author – UK only, £13.00


What are you willing to share?
How much are you willing to pay?
"Portico is a thought-provoking thriller. I'm already casting the film version in my mind." ***** Goodreads review
"Pacy, thrilling, suspenseful and complex to keep your attention… this is a must-read for anyone who likes intelligently-written thrillers – political, techno, or otherwise." ***** Amazon review
"The best of this genre I have read for a long time." ***** Amazon review
It's 2030. A world of driverless electric cars, touchless screens and social media that knows what you want before you do.
When jaded journalist Curtis Soren meets the new powerful boss of the government's mysterious Ministry for Society, he uncovers a top-secret organisation that puts him and his colleagues in danger – and threatens the privacy and freedom of every citizen.
In a struggle with his own haunted past and a present he doesn't understand, Soren is forced to take on Portico, the biggest social media organisation of all.
It becomes a desperate battle to expose the truth in an online world of fake news, censorship and social users addicted to their screens.
Lose yourself in this thrilling page turner which will challenge how you think about the future, and what you might need to sacrifice to get there.
A word from the Gideon Burrows, award winning author: "Portico was prompted by a single short news story on the radio, which left me seething. It was about social media companies and their influence upon governments, but also on every individual. The most terrifying thing was that every time I invented a new social tool or twist in my story, it actually happened a few weeks later. It made the book scary to write and I hope thrilling to read."
Enjoy 368 pages of story for fans of political conspiracy, near future and technological thrillers.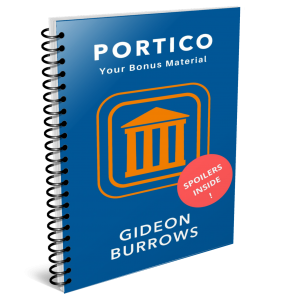 NOW AVAILABLE!
Your FREE bonus content, only if you buy from THIS website!
You cannot get this content from anywhere else.
– Questions to the author
– Deleted scenes
– Questions for book clubs
– Story 'snowflake'
– Scribbled first scene
– Page edit example
Order your copy NOW and get your bonus content!
Please buy ebook directly from the author for just £3.99p now!
Buy your signed Portico paperback direct from the author – UK only, £13.00
Available in paperback from all good online and to order from your local bookstore.
Click here for GoogleBooks, Apple Books, Kobo, Barnes & Noble and more



---