Glioblastoma – A Guide for Patients and Loved Ones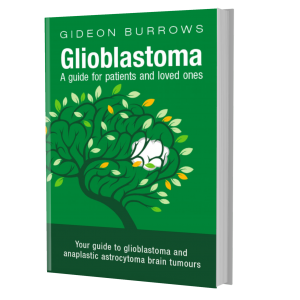 "I would highly recommend this book for its information and straightforward and honest style." ★★★★★ Amazon
"We have learnt more from this book than the oncologists and the internet. Gideon, thank you from the bottom of our hearts." ★★★★★ Amazon
"Well written about a difficult subject. Had everything I needed to know about anaplastic astrocytoma grade 3." ★★★★★ Amazon
"Great clarity and personal insight." ★★★★★ Amazon
"A no-nonsense look at currently incurable brain cancers." ★★★★★ Amazon
"Everyone is different so all of the examples from such amazing people are important." ★★★★★ Amazon
Please buy ebook direct from the author now!
Are you or anyone you love affected by a glioblastoma or anaplastic astrocytoma brain tumour?
This patient-focussed guide offers you the information and moving personal stories you need to understand and manage the most obstinate of brain cancers.
Author Gideon Burrows has been living with a life-limiting brain tumour for nearly a decade.
In that time he has become a patient expert on low- and high-grade brain tumours, and has interviewed dozens of patients, loved ones and medical professionals about their experience with the disease.
In this book, he shares the medical information doctors and oncologists don't always explain clearly, as well as the non-medical effects and emotions prompted by glioblastomas.
This book presents an honest and realistic picture, with a personal approach. Featuring dozens of personal testimonies from those with these high-grade brain tumours and their loved ones.
The book offers information, reassurance and support on these complex brain tumours.
◆ What is glioblastoma and astrocytoma?
◆ Where do they come from?
◆ How are they detected?
◆ What can you expect from a diagnosis?
◆ What treatments are available?
◆ Biopsy, surgery, chemotherapy, radiotherapy, and immunotherapy
◆ The side-effects of treatment
◆ What are the changes and challenges you can expect?
◆ How family and friends may react, can help and support
◆ What are the influences on life expectancy?
◆ How do deal with worsening health
◆ Trials and research: how you can benefit, how you can help
◆ Detailed references, to extend your research
"I found this book very useful in helping me understand this type of brain tumour, it's impact on the sufferer and the way it is treated. The author is himself a sufferer and and the book is interspersed with a number of personal accounts of other people's experiences of brain tumours, both their own and those of close family members." ★★★★ Goodreads
A word from the author:
"This book is a guide to adult glioblastoma and anaplastic astrocytoma for patients and their loved ones. The two brain tumours that are considered to have short life expectancies, and life changing effects before, during and after any treatment. Through offering basic medical information about brain cancer, as well as information about treatment options, prognosis and impact, I hope to help those affected to understand these brain tumours as best they can.
"I hope to arm you with information that will form the basis for further research, for questions to oncologists, surgeons, doctors and support organisations. And I hope to illustrate, as best I can, what life and perhaps death can be like with these brain tumours.
"Whatever you take away from this book, I hope to provide you with some support, knowledge and empowerment."
This book is now available with Gideon's first patient-centred book, Living Low Grade, about slower growing, life-limiting brain tumors.
Please buy your copy now by clicking the link below:
Please buy ebook direct from the author now!
Also available in ebook and paperback at:
And Amazon ebook / paperback / large print:
---