Locked In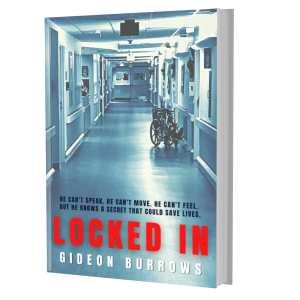 Strap in for the latest novel in Burrows' Who's In Control? thriller series.
Get your copy now for just £3.99
Your EXCLUSIVE signed paperback of Locked In for £12
London.
A massive explosion leaves 11 people dead, hundreds critically injured and one man in a deep coma.
David cannot speak. He cannot move. He cannot see.
But he can hear.
The police are desperate for answers. Hospital doctors need to save lives. The media are in a frenzy. And politicians want to make the whole thing go away.
Amongst the noise and fierce disputes around him and his future, David discovers the truth about what really happened.
It is worse than anyone could have imagined.
What he learns could bring justice to the victims.
But who was really to blame?
If you're willing to have your beliefs and assumptions rocked to the core, then close the door, turn on the bedside light and strap in for this page turning read.
Find yourself immersed in another claustrophobic thriller, from the award winning author of Portico and The Illustrator's Daughter. Locked In is the fifth book in Gideon Burrows' Who's In Control? series.
Get your copy now for just £3.99
Your EXCLUSIVE signed paperback of Locked In for £12
Also…
---
For Portico
"Portico is a thought-provoking thriller. I'm already casting the film version in my mind." ***** Goodreads
"Pacy, thrilling, suspenseful and complex to keep your attention… this is a must-read for anyone who likes intelligently-written thrillers – political, techno, or otherwise." ***** Amazon
"The best of this genre I have read for a long time." ***** Amazon
For The Illustrator's Daughter
"I finished this book and then went to give my children a big kiss and hug." Amazon *****
"A brilliant book. Couldn't put it down." Amazon *****
This book took my breath away. Absolutely couldn't put it down. Beautifully written, it explores some hugely emotional issues with honesty and grace. Can absolutely recommend." Amazon *****
"Honest, heartbreaking and unputdownable." Amazon *****
For The Spiral
"Creepy and claustrophobic." Andy MacDonald
"Recommended to all who love a bit of creeping dread in their lives." ★ ★ ★ ★ ★ Amazon
"Another superb story from an emerging author." ★ ★ ★ ★ ★ Amazon
---