Who's In Control?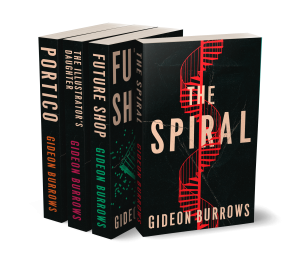 Four very different books. One unsettling theme: Who's Really In Control?
Please buy the whole series directly from the author for just £9.99p now!
Step into the scary world of choice, destiny, freewill and the future of democracy, with these spine tingling novels that will challenge everything you thought you knew and believed.
The Spiral: Four very different strangers are trapped alive on a spiral staircase, 129 steps deep under the City of London. They have no food. There is no water. No-one even knows they're missing. As thirst, hunger and despair take over, personalities clash and their darkest secrets are exposed. Who will give up? Who will die? And who will fight to the very end?
Future Shop: A strange man offers Rosa Bodran a virtual reality shopping experience, guaranteeing it will be quicker, easier and cheaper than her usual family shop. But all is not as it seems. Futuristic shopping might not be the solution to Rosa's problems. It could put everything she cares for at risk.
The Illustrator's Daughter: What is any parent's greatest fear? Loving parents. A brand new baby girl. They should have been an ideal young family. It doesn't always turn out that way. When Matt's daughter becomes seriously ill, the family embarks on a desperate mission to understand the condition and its treatment. But the parents have very different ideas about what will work, driving a gap between them so severe it could mean life or death for their daughter. Can Matt finally comes to terms with the unbearable choice: his daughter or his wife?
Portico: The award winning social media thriller. It's 2030. A world of driverless electric cars, touchless screens and social media that knows what you want before you do. When jaded journalist Curtis Soren meets the new powerful boss of the government's mysterious Ministry for Society, he uncovers a top-secret organisation that puts him and his colleagues in danger. Soren is forced to take on Portico, the biggest social media organisation of all, in a desperate battle to expose the truth in an online world of fake news, censorship and social users addicted to their screens.
Lose yourself in these four gripping page turners which will challenge how you think about the choices you make now and into the future, and what you might need to sacrifice to get what you want.
★ Buy these four thrillers as a box set, or top up the ones you don't have, and you're guaranteed a better price than buying them separately.
Please buy the whole series directly from the author for just £9.99p now!
Or, from these retailers:
Nook, Kobo, Apple Books and many others
And also:
---