Write for Charity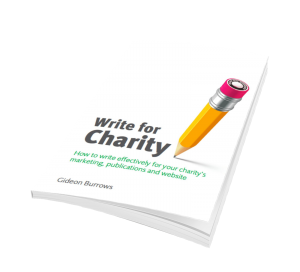 How to write effectively for your charity's marketing, publications and website.
Write for Charity is your easy-to-use guide to creating compelling copy for your charity's publications and online presence.
Divided into simple-to-follow tips and advice, the emphasis is on small changes you can make to your writing that will generate more interest, more impact and more income for your charity.
It covers how to write for your organisation's newsletters and magazines, your marketing materials, your annual review and reports, your website and social media.
Write for Charity can be read from cover to cover, or simple dipped into for expert advice on a subject of interest or weakness.
Whether you work with a small community organisation or a national charity brand, you'll quickly find your charity's material is easier to put together, more powerful and more engaging.
Vitally, you'll find your words become more effective at getting readers to do what you want them to do.
Order your copy NOW!
Please buy the e.book directly from the author for just £2.39 now!
Also available from:
Various bookshops online and worldwide – click here
Also available here:


---